Whilst the experienced Traceur may say it is down to the Traceur and not the trainers, I beleive the type of trainers play an important tool for a Traceur to move confidently, queitly and with sensitivity through his/her environment. It is important to be confident in the shoe you use.
Grip Confidence - Quietness - Sensitivity
I like to know there is little chance I will not slip/slide when I land on a rail or wall, which will free up any doubt in my mind. So a trainer with great grip is very high in my list.
I like to move and land as quietly as I can, and while landing properly is down to good technique. A good Traceur landing wearing DC's and a good Traceur wearing Nike Free's the sound of the landing will be much more quiet wearing Nike Free's.
When moving around in my environment, I like to feel what is beneath my feet through my shoes. I like to feel the friction of the surface as well as any curvature and edge of any given surface. This increased feeling heightens my overall sensitivity and impoves the feedback i need to move and feel my path.
At the beginning...
I remember the first time I done Pakrour with my DC Skate shoes, and thought they were good because they had a big flat chunky sole. Now looking back they were like running about with big rubber bricks on my feet.
After a month in the DC's, I went out and bought my first decent pair of trainers that were more suited to Parkour. They were Nike Air Pegasus 2005. They where light weight and had a superior grip, which improved my Parkour considerably.
As any Traceur who trains constantly will tell you, your trainers do not last long in Parkour. And since my early days in Parkour I have went through 5 pairs of trainers. And now I am onto the new Ariake trainer from KSWISS.
Below are the trainers I have used and what I thought the Pro's and Con's.
DC's

Pro's:
Good for rail balancing due to flat sole
Con's:
Heavy, lack of sensitivity & poor grip.
Nike Air Pegasus 2005
Pro's:
Light weight, superior grip & good ventilation.
Con's:
Plastic parts on sole can make rail work slippy and dangerous.
Nike Dart IV's
Pro's:
Light weight, last long, good ventilation & price
Con's:
The grip when new is waxy and takes a while to become good at traction.
Nike Dart III's
Pro's:
Light weight, last long, good ventilation & price
Con's:
The grip when new is waxy and takes a while to become good at traction & the stitching comes loose too quickly.
KSWISS Ariake

So now I am on to the Ariake from KSWISS, which is a trainer that is purposely built for Parkour/Free running and is endorsed by Sebastien Foucan.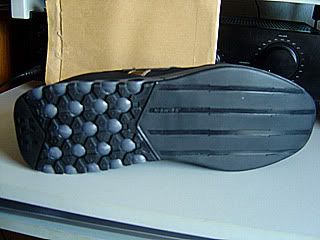 My first impression of these trainers is, they are one of the best looking trainers with nice attention to detail. The sole from the middle to the front is smooth and reminds me of a tyre tread in a F1 racing car. I know for sure that these will be grippy despite being smooth, as the type of rubber on this sole has a sticky/gripping property to it.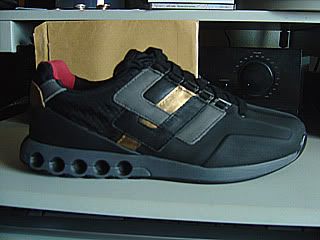 KSwiss Ariake
Pro's:
Stylish Looks (Although not important), Excellent Grip!!
Con's:
Too rigid (will not wrap around rails), lack of sensitivty (for feeling edges and curves), the ventilation could be better & Expensive.
After testing these trainers for just less than 2 months this is what I thought. I really loved the grip on these trainers; they allowed me to forget any doubt of sliding and gave me confidence in trying bigger and more challenging things. However they are rigid in their construction, which made my landings recognisably louder and heavier. Also the lack of flexibility has not allowed me to wrap my feet on rails during precisions; which in turn has sacrificed the sensitivity from the shoe. I found my feet sweating a lot from the poor ventilation as well, although the white KSwiss Ariake have perforated holes in the side and so may have better ventilation.
***Update 10th January***
I originally found the K-Swiss trainers to be dangerous in the wet, however I have adapted by specifically training in the rain. And I have found by sharpening up my technique in the wet they are not as dangerous in the wet as I once thought. This is just my personal opinion and down to the way i train. So please be careful if you train in the wet.
***Update 8th February***
I recently purchased my Nike Free's last week and love them!!!
I will give a proper write up of these trainers in a couple of months time.
Pro's:
Amazing feedback on the sensitivity, Very Flexible, Ultra lightweight.
Con's:
Not for the inexperienced Traceur who has not mastered their landings. Also... Due to the design flaw unsupporting of the foot, should the foot roll over sideways there is a very high chance of spraining or breaking your ankle. And this can be at ground level on uneven ground. And has happened to 3 of our experienced Traceurs at ground level.
Zeno